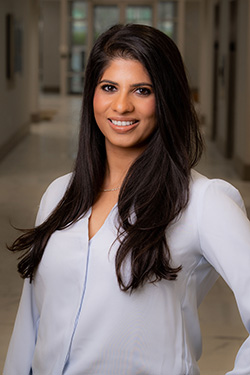 Jeevitha Patil, MD, FACOG
Dr. Patil is originally from College Station, Texas. She received her undergraduate degree at the University of Texas at Austin where she majored in Plan II honors and biology. She then received her medical degree at Texas Tech in Lubbock, TX. She completed her residency training in Obstetrics and Gynecology at Baylor College of Medicine in Houston, TX.
Dr. Patil feels privileged to be able to take care of females at all stages of life. She provides a range of care from obstetrics, to routine well-woman care, to specific gynecologic concerns. She has a special interest in low and high-risk obstetrics, infertility, PCOS, and minimally invasive surgery.
She is excited to join her fiancé in Atlanta. In her free time, you can find Dr.Patil trying out new fitness classes, cooking, and traveling.